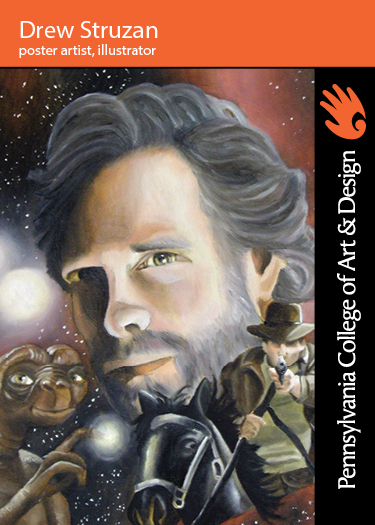 Artist Spotlight: Drew Struzan
. . .
Monday, February 16th, 2015
What more can be said of Drew Struzan? The man has dominated the movie poster industry for years, with his illustrations capturing the hearts and imagination of countless cinephiles across the globe.
Mostly known for his hand-drawn, "one sheet" movie posters, his artwork has graced some of the top movie franchises of all time, including Back to the Future, Star Wars, Indiana Jones, Harry Potter, and countless others. Chances are if you've seen a Steven Spielberg film within the last 30 years, you've come across one of Struzan's illustrations.
His iconic work isn't just a testament to his skill, however—it's a testament to the hard work and careful thought he put into it. When Struzan was 18, he enrolled in art school in Los Angeles, where he pursued his interest in the arts, refined his creative processes and developed his technical skills. After graduating, Struzan began his professional career  creating album cover artwork for a variety of renowned musicians.
Born: 1946
Famous work: Star Wars, Indiana Jones, and Harry Potter movie posters
Facts About Struzan:
In a time when the majority of poster artwork is done with computers
Struzan has become famous for his traditional, hand drawn approach to illustrating "one sheet" movie posters
Popularly known by his signature first name on his work
Struggled with dyslexia as a child
Has produced over 150 movie posters
Declared "favorite movie artist" by director Steven Spielberg
QUOTE: "When I was young and in school I looked at everything and wanted to learn everything and gather all of the information I possibly could from history and from other great artists…"

Illustration by Stephanie Swanger '08