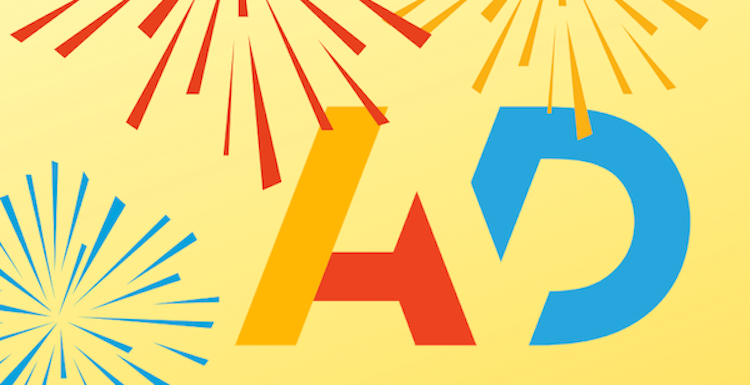 In the news: A month of accomplishments in the PCA&D community
. . .
Thursday, December 3rd, 2020
Congratulations to these students, faculty, staff, and alumni on their recent accomplishments:
Rebecca Adey (Assistant Director of Admission) was part of a group show featuring six in-house artists at Millworks, in Harrisburg. Adey's ModSew Designs occupies one of the studio spaces at Millworks. Six of her works were featured in the exhibition: three 2D paper-cut animal portraits alongside their corresponding sculptural plush mounts. You can see more of Adey's work here.
An augmented reality art collaboration by PCA&D instructor Adam DelMarcelle (Graphic Design) and artist colleague Heather Snyder Quinn is earning national and international recognition by publications such as The Washington Post and Hyperallergic.
With fellow artist Quinn, DelMarcelle has created Mariah, an app that uses a phone app to transform the Metropolitan Museum of Art's Sackler Wing into a memorial for lives lost to opioid addiction. The Sackler family, which has donated many millions to various art entities, founded and owns Purdue Pharma, the company which made and marketed the prescription painkiller OxyContin.
The app is named for Mariah Lotti, who died of an overdose in 2011 at 19.
A description of the app: Mariah is an augmented reality application that narrates stories of historical injustice through the backdrop of significant cultural institutions and the funding that has allowed them to exist. Mariah reveals memorials to those that have perished so that "philanthropists" could have their names carved into marble walls. She is a witness to injustice and an actor of protest.
Taking Fright, a 2D/3D short animated film by Phil Kieffer (Center for Creative Exploration instructor and 2019 PCA&D graduate in Digital Media) and fellow 2019 Digital Media graduate Noah Miller, recently won "Best Original Concept" honors at the Jane Austen International Film Fest in England. Taking Fright is the story of Homer B. Erdee, a red sparrow whose broken wing prevents him from flying south with his friends for the winter. You can enjoy Taking Fright at Kieffer's website here, and be sure to catch the voice talents of Brendon Lane '20, Illustration; the prop design contributions of Rainey Supple '20, Animation & Game Art; and environment design assistance by Marshaun Zeigler-Dumas '19, Illustration.
William Mammarella, Fine Art Chair, earned note at TribLive.com for his role as juror of the Southwestern Pennsylvania Council for the Arts' 25th regional exhibition. The show, at the Southern Alleghenies Museum of Art-Ligonier Valley, runs through the end of January.
"In selecting the work, I thought about the individual's commitment and the care and experience they brought to their work," Mammarella told TribLive. "I tried not to be swayed by any preconceptions or themes but to include as many voices as possible."
Osmyn Oree '11, Admissions Counselor, was the guest earlier this month for an Instagram interview by One For All, a Philadelphia-based arts organization. His interviewer, Parker Jackson, also is a Class of 2011 PCA&D graduate, with a degree in Fine Art. During the hour-long session, Oree talks about his work, life as a working artist, collaboration, and a host of other topics. One For All focuses on creating affordable arts resources for low-income emerging artists and the larger community. Jackson is the founder and executive director of the arts organization. The organization has saved Oree's interview on its Instagram feed, which you can find here.
Alumnus Sterling Ruby '96, was the focus of a November installment of Sotheby's Conversations in Contemporary Art series. Ruby spoke with Phaidon Commissioning Editor Michele Robecchi about how his upbringing in rural Pennsylvania — and his chance at a young age to see bands like Minor Threat and Bad Brains — combined to impact everything from the evolution of his work to his studio space and current practice. Global publisher Phaidon, which specializes in the creative arts, has released a monograph of Ruby's work, calling it "a comprehensive study of one of the most versatile artists and acute observers of our time, who fuses art and fashion."