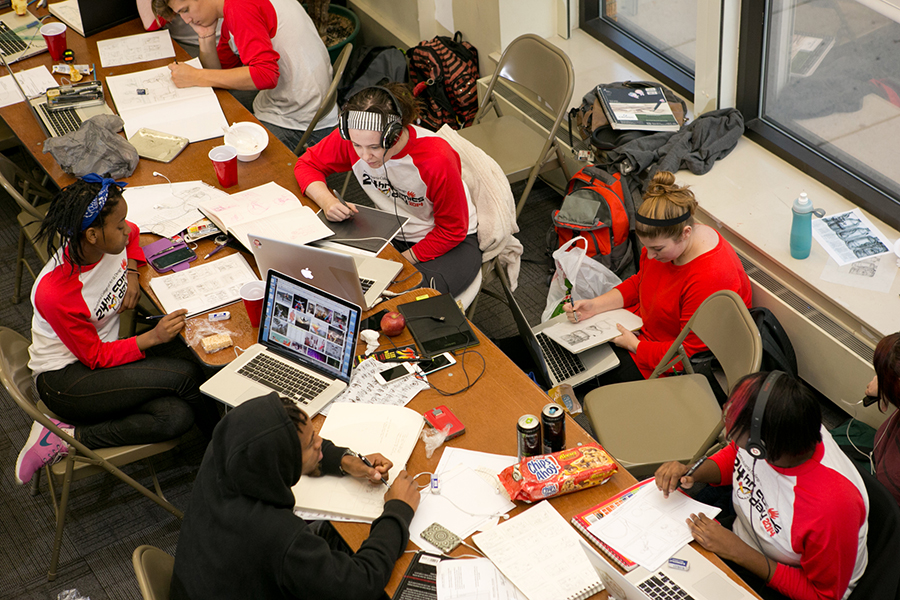 PCA&D to participate in International 24-hour Comics Day with panel discussion and 1-day creation of comic book
. . .
Thursday, September 24th, 2015
What started as a dare among some of the comic industry's best-known artists is now a global phenomena. In 2015, the global event will occur on October 3, with PCA&D students from all departments, faculty, alumni and visiting artists will accept the challenge to create full-length comic book in 24 hours, from front cover to "The End," finishing at 1 p.m. on Sunday.
Just before the main event on Saturday October 3, PCA&D will have a panel discussion from 12 – 1:00 p.m.  This event is open to the public during Art Walk weekend in Lancaster. The panel will be discussing the changing role of, and attitude towards, comics in our society. The panel will consist of guest artists Christine Larsen, Brad Guigar and Robert Pruitt, and PCA&D faculty members and industry artists Bob McLeod and Mike Hawthorne. The panel moderator will be Illustration and Digital Media Department Chairman, Bob Hochgertel.
PCA&D is the only regional venue for this year's Comics Day, and its participation is sponsored by PCA&D's Illustration Department and PCA&D's  Society of Illustrators Student Group Chapter.
24-hour Comics Day began over twenty years ago as a dare waged by artist Scott McCloud among his fellow comic artists. Since then, thousands of artists from across the globe participate in creating – from scratch – a completed 24-page graphic novel or comic book from beginning to end, all within twenty-four hours.  Participants over the years include well-known artists such as Kevin Eastman, creator of the "Teenage Mutant Ninja Turtles." A brief history of how and why this 24-hour "dare" began is on www.24hourcomicsday.com
According to  Hochgertel, PCA&D puts its own special spin on the event – during the 24-hour period: PCAD students and faculty  Skype with students and artists from across the globe who are also taking the challenge. In past years, students have Skyped with artists in Boston, Denver, San Francisco, Singapore, Thailand and New Zealand. "Last year we added a new wrinkle to the event as our art students Skyped with the creative writing students at the University of Pennsylvania. The UPenn students provided text addressing the issue of the growing number of homeless youth in America and PCA&D students created a 64 page Graphic Novel based on their text to bring attention to the problem."
About our artists during the 24-hour Comics Day.
Share this article with a friend