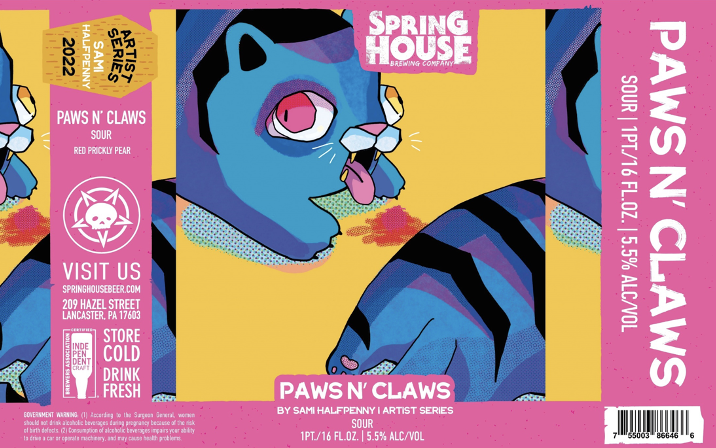 Cheers! Two PCA&D artists tapped for Spring House Brewing collaboration
. . .
Thursday, January 20th, 2022
The work of Sami Halfpenny '23, Illustration and Brigitte Errickson '19, Fine Art, will be featured on Spring House Brewing products this year.
Their art joins that of Center for Creative Exploration instructor Zack Wilkinson, whose Thirst For Adventure piece was tapped for July's Artist Collaboration beer.
The PCA&D artists were among the dozen chosen by the Lancaster-based brewery as part of its third annual Artist Collaboration series of cans. Errickson's Art, Legs for Days, will be highlighted in March, and Halfpenny's, Paws N' Claws, in February. Spring House's Director of Business Development, Scott Richardson, says the brewery receives entries from between 300 and 500 artists annually, and each artist may submit up to five pieces.
Halfpenny submitted three related works to the contest, and was "genuinely surprised" when it was announced that Paws N' Claws had been chosen.
It was "one of those times as an artist," Halfpenny says, when an image comes to you as you're falling asleep and you do a quick sketch so you don't forget the idea in the morning.
Halfpenny is currently into surface design and patterns, and was drawn to entering the contest after seeing it announced in the College's weekly opportunities newsletter for students.
"A lot of the contests I see are super not local," Halfpenny says, "and I wanted to do something local."
While Spring House's contest itself is for a local brewery, Richardson says the company gets entries for its Artist Collaboration from around the world. "We don't preference gender (or) geographic location" when choosing winning designs, he adds. "But consistently we have more women featured and about half of all (work) we select is local."
The final 12 artists are chosen by the brewery team, friends, and family, Richardson says. "We never try to match a piece to a style of beer," he says, noting that the beer is named whatever the art is titled. "We just want interesting art and then we develop the beer for each.
"There's such great talent already out there, and we think of ourselves as an off-center, alternative, community-based brewery," Richardson says. "It made sense to champion artists and their work. We're particularly proud because we use original pre-existing artwork (no extra work on their end), we pay them, they retain the rights to their work, and we promote them when they are released. Many of the artists became our graphic designers, printers, muralists at the brewery, but also they are recognized and pick up work by others who discover them through the cans. It's rad."
Top image: Label for Spring House Brewing's Artist Collab by Sami Halfpenny '23, Illustration. Courtesy Spring House Brewing.
Share this article with a friend
TAGS : alumni, Brigitte Errickson, collaboration, Fine Art, Illustration, Samantha Halfpenny, Sami Halfpenny, Spring house